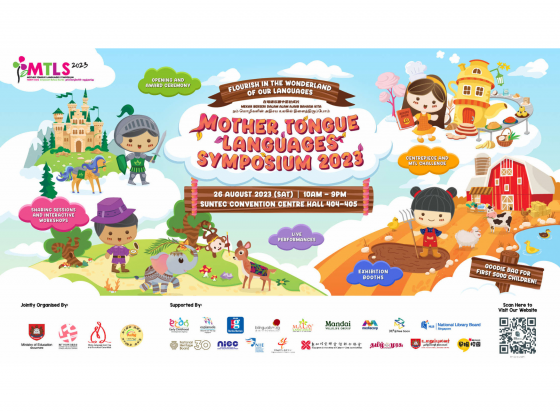 Mother Tongue Language Symposium 2023
26 Aug 2023
Suntec Convention Centre Hall 404-405
Signature or Flagship Programme Fund
Dates : Tarikh
26 Aug 2023
Target Audience : Golongan Sasaran
Public
Guest of Honour :
Mr Chan Chun Sing
Details of Organisation Butiran Pertubuhan
Company phone Number :
+65
Details of Contact Person Perincian Pemohon
Email Address : Alamat E-mel
MOE_MLLPC_Secretariat@moe.gov.sg
Objectives of Programme Matlamat Program
Programme objectives Matlamat Program
The theme of this year's MTLS is "Flourish in the Wonderland of Our Languages," and the symposium will be held on Saturday, 26 August 2023, at the Suntec Singapore Convention & Exhibition Centre. The symposium will return to a full face-to-face format since the COVID-19 pandemic.
Synopsis Sinopsis
This year's symposium featured a line-up of educators, curriculum specialists, and media personalities who shared tips and insights on literacy and cultivating an appreciation of the MTLs. There was a total of 19 sharing sessions targeted at parents and educators, as well as 26 interactive workshops for parents to engage their child in MTL learning. Speakers included: Mr Josef Lee, a local picture-book author and artist who shares stories through pictures. Mr Lee focuses on using simple characters and words, alongside a whimsical illustration style, to create heartwarming stories to touch the hearts of readers. Ms Nur-El-Hudaa Jaffar is an editor, translator, and writer of children's books. During her workshop, participants were invited to put on their imaginary hat and create their own stories after learning about character, plot, and emotion development. Mdm Kalpana, a producer, director, and script writer for numerous local Tamil Emmy Award (Pradhana Vizha) winning programmes, believes firmly in the importance of clear pronunciation and effective intonation when using the Tamil language. She shared useful tips to help children express themselves clearly and confidently in Tamil in front of the camera.