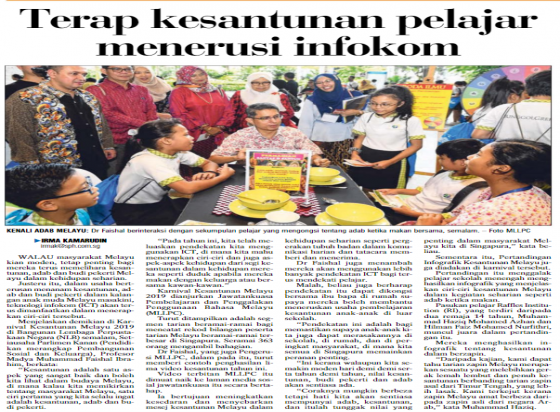 Karnival Kesantunan Melayu 2019
Signature or Flagship Programme Fund
Dates : Tarikh
13 Jul 2019
Target Audience : Golongan Sasaran
Pelajar (Sekolah Rndah/Sekolah Menengah/Maktab Rendah)
Guest of Honour :
Dr Muhammad Faishal Ibrahim
Details of Organisation Butiran Pertubuhan
Company phone Number :
68796611
Details of Contact Person Perincian Pemohon
Email Address : Alamat E-mel
iskandar_shah_abu_bakar@moe.gov.sg
Objectives of Programme Matlamat Program
Programme objectives Matlamat Program
1. To provide participants with an authentic experience in learning about Malay Finesse. 2. To inculcate the values of Malay Finesse in our younger generation and encourage the practice/habits of finesse among the Malay language speakers.
Synopsis Sinopsis
2. The carnival will provide an immersive experience for visitors. There will be various interactive booths showcasing the different aspects of Malay finesse in our daily life. Visitors can view the display of the infographics produced by the participants of the Malay Finesse Infographic Competition. The highlight of the carnival is a Mass Dance session that will raise visitors' awareness on the significance of each dance movement, culminating into an attempt to create a Singapore Book of Records for the largest Finesse in Malay Dance Record.