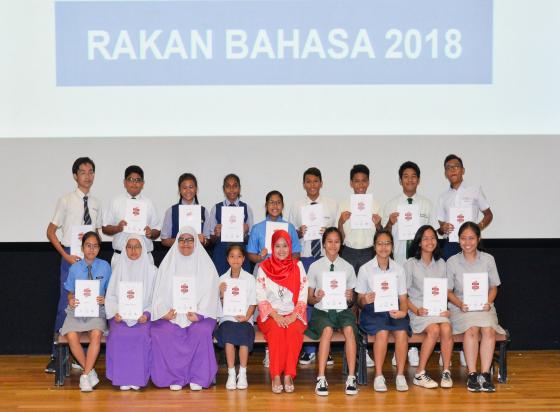 Rakan Bahasa 2019
22 Feb 2019
Majlis Bahasa Melayu Singapura
Signature or Flagship Programme Fund
Dates : Tarikh
06 Mar 2019
Target Audience : Golongan Sasaran
Pelajar (Sekolah Rndah/Sekolah Menengah/Maktab Rendah)
Details of Organisation Butiran Pertubuhan
Details of Contact Person Perincian Pemohon
Email Address : Alamat E-mel
NHB_MalayLanguageCouncil@nhb.gov.sg
Objectives of Programme Matlamat Program
Programme objectives Matlamat Program
Students nominated as Rakan Bahasa will be given opportunities to improve their presentation skills, appreciate the Malay culture and build confidence as a language ambassador.
Synopsis Sinopsis
As part of Bulan Bahasa, students who are passionate about the Malay language and culture are appointed for a year as Rakan Bahasa, to be role models for the Malay language, to their peers, friends and families.
We seek support from schools and Malay Language teachers to nominate a maximum of two Rakan Bahasa per school. Training on public speaking and presenting with confidence will be provided to the Rakan Bahasa. A myriad of language development opportunities also await this year's Rakan Bahasa. More information can be found in the Rakan Bahasa nomination form attached. The form can also be downloaded from: http://tinyurl.com/RakanBahasa2019 All completed nomination forms should be sent to the MBMS Secretariat atNHB_MalayLanguageCouncil@nhb.gov.sg and enquiries may also be sent to the same email address. The closing deadline for Rakan Bahasa nominations is 6 March 2019. We look forward to receiving the nominations from all schools. Thank you.